DEXTER, IA EXPERT PLUMBERS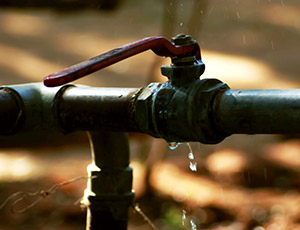 Leaky faucets, wastewater backups, cracked or frozen pipes, broken water heaters, and more are issues that often need to be fixed right away. And that's why our professional plumbers specialize in your emergency repairs here at Roto-Rooter Des Moines.
Our passion is our customers, and helping them with their plumbing needs is our number one concern. So when you have a plumbing emergency, you can count on our experienced technicians to be ready to help you whether it's in the middle of the night or on a holiday.
Drain Cleaning in Dexter
One of the most effective ways to avoid emergency plumbing situations is to have your drain and pipe systems cleaned out regularly. Over time, the minerals in the water will work to coat the pipes and connections with a substance called scale.
This normally occurs in the wastewater pipelines because the sediments are heated to a degree that produces scale. As time goes on, the pipes become thicker and thicker with this coating, which means the water flows out slower and slower. Clogs then easily form, even if you've done everything right to keep the drains clear.
That's why it's always going to be a best bet for you to get a regular drain cleaning, so you can be sure your pipes are in the best condition to avoid clogs. Rather than facing an emergency situation where you're forced to fix the problem, this preventative service can be done a couple of times a year or more to ensure your drains stay clean and clear.
Sewer Line Repair in Dexter
The sewer lines are often the most difficult to repair or replace because they can be located in areas that are difficult to reach. They can be under concrete foundations, within walls, within ceilings, and deep in the ground. That can make it expensive to dig into, unless that is you're an expert plumber with the technology available to avoid having to go through all that effort.
Our technicians at Roto-Rooter Des Moines are fully trained and experienced at finding and fixing your sewer line problems here in Dexter. Whether you have broken or crushed pipes, tree roots infiltrating the lines, or clogs on down the line into the sewer system, we can handle your problems.
You'll always want a plumbing company you can count on when you need help. That's why we're so passionate about staying a leader in the industry. We want to be able to provide you with whatever you need, so we can develop a relationship with you to take care of everything for you.
We work hard every day to stay on top of our education, training, and advanced technology methods so you always get the best service. We know our reputation depends on your ability to trust that you've got the best in the business at your side no matter what you need us for.
Roto-Rooter Des Moines appreciates your feedback. Please give us more time to collect your reviews and they will be displayed below.
---
Recent Articles
If you are looking for a Dexter plumber then please call 515-278-5668 or complete our online request form.