De Soto, IA Expert Plumbers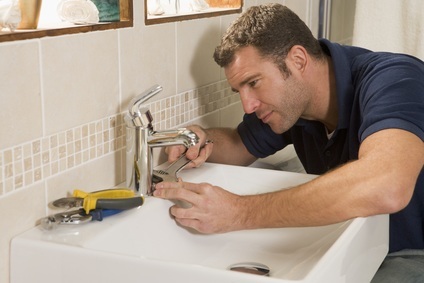 Sometimes it's hard to know who to trust when you have an emergency plumbing need, but you'll never need to worry about honesty at Roto-Rooter Des Moines.
Our technicians are upfront with estimates for your repairs, and we'll never try to mislead you. That's what makes our company the trusted plumbing experts in our area of the country. Whether you have a leak, a flood or backup, or broken pipes, we'll respond to your call with fully loaded trucks to help you fast.
Drain Cleaning in De Soto
We'll clean your entire plumbing system wherever necessary in your home so your pipes remain clean and you don't suffer with surprise backups or other frustrating problems. Preventing clogs with regular drain cleaning services is the best way to ensure your home stays clear of issues that can cause you problems.
Drain cleaning can be done in a number of ways, and the solutions will depend on what is going on with your particular system. Advancements in technology have allowed expert plumbers like ours here at Roto-Rooter Des Moines to blast this scale and any clogs you may have away.
We can use video camera inspection to find and locate the problems, which means you won't have to worry about your lawn being dug up or paying the extra costs associated with labor. For expert plumbers who are ready to serve you with the latest advancements in technology, call us at the number below!
Sewer Line Repair in De Soto
Sewer line problems used to be a nightmare when the lines had to be dug up in order to find and fix the problem. From cracked or broken lines to clogs, digging up lines and replacing them was an extensive task that required quite a bit of time and cost to perform.
But with today's advancements in technology, professional plumbing companies with the experience like we have here at Roto-Rooter Des Moines will utilize advanced tools to locate and replace your sewer line without the need to dig up the entire line.
Septic Installation, Maintenance & Cleaning in De Soto
Is your septic system acting sluggish? You could need anything from a septic tank pump out to repairs. Often, it's not easy to tell what the problem is because it could be your lateral lines are being taken over by tree roots or your tank could be having difficulty getting rid of the solid wastes which requires pumping to remove it.
Regardless, our professionals here at Roto-Rooter Des Moines can pinpoint the problem and get your septic system back online again. We also are fully experienced and able to handle your installation and cleaning.
Roto-Rooter Des Moines appreciates your feedback. Please give us more time to collect your reviews and they will be displayed below.
---
Recent Articles
If you are looking for a De Soto plumber then please call 515-278-5668 or complete our online request form.