KEEPING APPLIANCES CLEAN CAN KEEP YOUR DRAINS CLEAN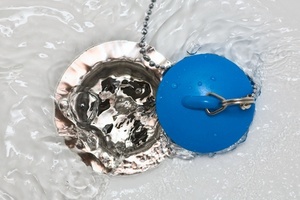 The appliances in your home are used every day. They go through a lot of use if you also have several family members.
The dishwasher or clothes washing machine can often be run at least once per day. With all the use, we need to make sure we are keeping an eye on the appliance's condition.
If you do have sluggish drains in some areas and not others, you can check a few things to see if it's an easy fix for you.
If your kitchen dishwasher or disposal is showing any signs of holding water, it could be that you have a drain that is accumulating debris and/or sediments that make it sluggish when draining away the water.
A lot of people don't know that a dishwasher commonly has a debris trap that needs to be cleaned out. The filter needs to be cleared whenever there is something trapped in it or the debris will continue to cause sluggish drainage and your dishes won't get clean.
Plus the grimy goo will be thrown about whenever the dishwasher is run, so you never do really get clean dishes.
Be sure that you also check your disposal for left over hard particles. Things can be so small yet still get thrown about in the disposal. Grease tends to accumulate in the disposal and everything seems to stick to it, making a prime place for bacterial growth.
There are several brands of popular cleaning solution companies that manufacture dishwasher cleaner packets. Just follow the manufacturer's directions for how often to use them.
Our professionals have drain care products available that are specifically designed to assist you with keeping clean drains and pipes. Just call us to learn more.
When trying to clean your drains yourself, be careful mixing any home cleaning or cooking products! It can be extremely dangerous to mix household chemicals and you or family members could truly suffer from what seems like an easy or innocent thing to try.
On top of keeping your drains running smoothly with a few things you can do at home, you will always have our professionals standing by to assist you.
At Roto-Rooter, you never have to worry about getting a professional plumber to respond to your call. If your drains ever give you trouble and you need help clearing or repairing them, just give us a call.
We are a reliable and reputable Iowa plumbing company that you can trust.
Drain & Plumbing Services We Provide in Des Moines
Plumbing Services
Drain Cleaning
Hydro-jetting
Water & Sewer Line Repairs
Septic System Repairs/Pumping
Camera Video Inspection
Pipe Tracing
Toilet & Faucet
Water Heater Repairs
Grease Trap Repairs/Pumping
Bacterial Drain Care Products
If you are looking for a Des Moines plumber then please call Roto-Rooter at 515-278-5668 or complete our online request form.