Dallas Center, IA Expert Plumber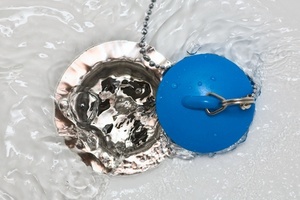 Plumbing problems can take a lot out of a person, especially when you're experiencing an issue like a clogged drain or leak that floods your home. That's why we make it a point to be ready to serve the area with our professional emergency plumbing repairs.
When you have an issue, you'll always be able to count on our licensed, insured, and experienced plumbers to answer your call right away. Roto-Rooter Des Moines is your premier plumbing company that's ready to help whether the problem is big or small.
Regular maintenance on your plumbing parts and pipes is an important step to take that most homeowners and business owners don't consider, but in fact this type of service goes a long way in keeping the systems working properly so emergencies don't happen.
Drain Cleaning in Dallas Center
Your drains sometimes need to be cleaned as a preventative measure to avoid clogs and other issues that mean your fresh water or wastewater system isn't available to you. Over time, the lines get coated with lime, scale, and minerals along with whatever waste may get caught. This buildup of goo needs to be cleaned out at least a couple of times a year in order to ensure you don't end up with emergency clogs.
Eventually, the drain pipes get thinner and thinner on the inside and the clog will be the end result. Our professional plumbers will always be available for drain cleaning when you get a clog, but we encourage our clients to get a regular drain cleaning service in order to avoid clogs altogether.
Sewer Line Repair in Dallas Center
In days gone past, sewer line repairs involved having to dig up or excavate the pipe and restore it, which meant a large portion of your lawn or yard would be dug up and extensive repairs would have to be made. Today, companies that offer advanced technology to solve these issues can easily pinpoint the problem and replace the pipe where necessary.
At Roto-Rooter Des Moines, we utilize video camera inspection and Pipebursting Technology to find and repair your pipes. This is a great alternative solution that will save time and costs for the repairs.
Septic Installation, Maintenance & Cleaning in Dallas Center
Your septic system consists of several units that work together to get rid of your wastewater. When the system isn't functioning properly, you're not going to be able to use the wastewater system in your home or business, and this can cause huge problems for you.
You need plumbing professionals who can handle whatever needs you have when it comes to your septic system, and our pro's are ready and able to help. Whether it's a new installation or you need your system cleaned or repaired, our service solutions are tailored to meet your needs.
Roto-Rooter Des Moines appreciates your feedback. Please give us more time to collect your reviews and they will be displayed below.
---
Recent Articles
If you are looking for a Dallas Center plumber then please call 515-278-5668 or complete our online request form.