Indianola Plumber for Drain Cleaning & Plumbing Services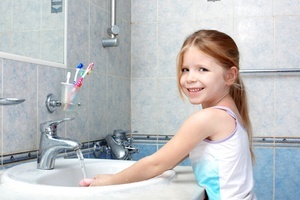 Operated as an Independent Franchise of the Roto-Rooter corporation, your Indianola plumbers at this Roto-Rooter location offer a complete range of expert plumbing repair and drain cleaning services in Indianola, IA 50125. Covering residential and commercial plumbing services, our company handles both big and small jobs. Whatever you need in terms of drain cleaning and plumbing repairs, we are the Indianola plumber that can deliver!
Our services include drain cleaning, septic repairs, grease trap pumping and repair, water line and sewer repairs, faucet repair, toilet repair, prevention for frozen pipes, camera video inspection of drain lines, and much more. We stand behind our estimates and offer solid, no hassle guarantees. So when you call our Indianola plumbers, you can rest assured you'll get nothing but the best for your home or business!
Indianola Drain Cleaning
Our Indianola plumbers use state-of-the-art equipment to take care of the need for residential and commercial drain cleaning in Indianola, IA 50125 our customer have. We have a reputation for the high quality of work we do on each and every service call, and no job is too big or small for our Indianola drain cleaning experts. So whether you are a large business that needs grease trap pumping and repairs or a local resident that's having trouble with a clogged kitchen drain, our Indianola drain cleaning team is happy to help you!
Indianola Plumbing Repairs
Open 24/7 for plumbing repairs, our Indianola plumbers are happy to take care of any drian or plumbing problems our customers are experiencing. Our Indianola plumbing repairs team specializes in emergency service; but we're also available for schedule and routine maintenance as well. Call our Indianola plumbing company today at 515-278-5668 to learn more about our plumbing services.
Indianola Water Heater Repairs
Water heaters are a necessity for homes in the Indianola, IA area. So when you water heater stops working, do you know who to call? Well, you do now! Call our Indianola water heater repairs experts and have those hot water heater woes taken care of – pronto! – by expert service technicians.
We Provide Plumbing Service in Indianola, IA for these Zip Codes:
50125
Roto-Rooter is rated 5 /5 based on these 1 happy customer reviews
---
Dustin was not only professional and reassuring during his visit, he was very informative. He called out a senior tech who had visited my house prior and they were both so helpful and even got me to laugh when I was mortified my basement was backed up with waste. Kudos to them both. I was frustrated and embarrassed when they arrived and was relieved they were able to fix the situation. Thank you for having valued employees who take the time to treat the client, not just the plumbing issue.

---



If you are looking for an Indianola plumber then please call 515-278-5668 or complete our online request form.