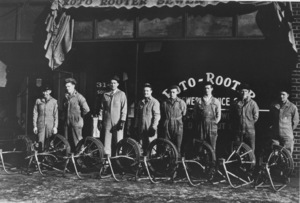 If you are old enough, you may recall the well-loved jingle for Roto-Rooter – And away go troubles down the drain. Today, Roto-Rooter still remains the first name in Des Moines drain cleaning and care for many homeowners and businesses in Iowa.
Roto-Rooter is one of the most well-known and trusted plumbing service providers of Iowa, and today extends to serve cities all over the country. Our franchise of the Roto-Rooter corporation provides a full range of plumbing services in Des Moines, IA and the surrounding areas. With humble beginnings in a garage right here in Des Moines in 1934, the Roto-Rooter name has grown to be the largest plumbing and drain care provider of our time. Making drain problems and plumbing repairs quick and easy, Roto-Rooter is the name you can rely on when you need a Des Moines plumber.
Founded by Samuel Blac, Roto-Rooter started with the invention of a funny-looking sewer and drain cleaning machine back in 1933. Using a 1/6 HP Maytag washing machine motor, roller skate wheels and 3/8″ cable to turn the blades, Blac created a device that was able to cut tree roots out of sewer lines and clear the line for drainage – no digging required. He originally built this invention to help his daughter-in-law, and his wife dub it the "Roto-Rooter."
Blac quickly realized the potential of this device and the service it could provide homeowners and businesses everywhere. Thus, Roto-Rooter was born in 1935. Today, Roto-Rooter is the largest provider of plumbing and drain cleaning services in North America. But few people are aware that the idea for the world's largest plumbing and drain care provider was born in a Des Moines garage in 1934. Or that Blanc, its 51-year-old inventor, didn't even have indoor plumbing in his home at the time he came up with the idea. This is the history from where our company came from, and today, we are proud to be part of Roto-Rooter.
If you are looking for a Des Moines plumber then please call 515-278-5668 or complete our online request form.