Grimes Plumber for Drain Cleaning & Plumbing Services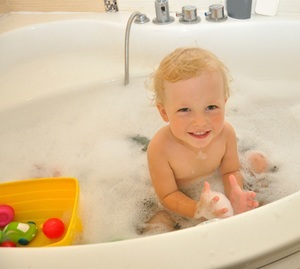 Trusted and recommended since 1935, Roto-Rooter of Grimes, IA 50111 is the full-service plumbing repair company you can rely on to fix the problem right the first time. Stopped drains, leaky faucets, scheduled and emergency service, big jobs and small: we do it all. So when a plumbing problem has you all wet, you know who to call: Roto-Rooter, your Grimes plumber.
We provide residential and commercial plumbing services in Grimes, IA 50111. Both scheduled and emergency services are available from our Grimes plumbers.
Grimes Drain Cleaning
Trusted and recommended by homeowners and businesses alike since 1935, Roto-Rooter is the Grimes drain cleaning company you can rely on to make your drainage troubles go away. Just give us a call, and our expert Grimes drain cleaning technicians will come out to assess your situation and provide reliable solutions to your slow or clogged drains. We also carry a variety of drain care products that will help keep your drains clog-free longer. Ask us about it today! Call Our drain cleaning experts in Grimes, IA at 515-278-5668 to get started.
Grimes Plumbing Repairs
Uniformed and professional, our Grimes plumbers are the type of technicians you'll feel comfortable about having in your home, working on your plumbing problems. We take pride in being Grimes plumbers, and it shows not only in the quality of our work, but the way we dress, act and provide the utmost in professional service when on the job.
Grimes Water Heater Repairs
Licensed, insured, and always ready to help our customers, our Grimes plumbers have the training and state-of-the-art equipment needed to take care of any plumbing repair need. This includes Grimes water heater repairs! From water heaters that go bump in the night to a unit that just won't produce hot water, our Grimes water heater repairs team can take care of it with precision, professionalism, and ease.
We Provide Plumbing Service in Grimes, IA for these Zip Codes:
50111
Roto-Rooter is rated 5 /5 based on these 1 happy customer reviews
---
We would like to commend the men who did the work for their care and skill in doing the job. Ryan Sharp is a skilled backhoe operator who did a wonderful job in carefully extracting the old field tile without collapsing the side of the septic tank. He also cleaned up the dirt in the yard very well when back-filling the trench. Chad Leger did an excellent job of cutting, fitting, and gluing the pipe from the septic tank, through the wall, and into the existing drain pipe. I check the inside fittings for leaks this morning and could find none. He is very skilled at this trade. I didn't get the name of the young fellow who broke up the concrete in the basement but he did a good job as well, cleaning up the work area behind him when he was finished. As you can tell, we are very pleased with the work your people did, and will certainly contact you for any future work, as well as recommend you to our friends.

---



Recent Articles About Grimes Plumbing:
If you are looking for a Grimes plumber then please call 515-278-5668 or complete our online request form.